Top 5 best small and medium business management software 2020
Nhà trưng bày
Top 5 best small and medium business management software 2020
Are you on the way of "fulfilling the expected target" and finding solutions to optimize management and operation? If so, the top 5 business management software below will be an effective tool for CEOs, business leaders to make more accurate operating decisions and a solution to overcome many painful problems that cause businesses. ineffective performance.
Why should we use business management software?
Many administrators say that "using software such as accounting, warehouse, human resources ... can replace business management software". That misconception makes corporate governance more difficult because of the discrete data system, leading to:
Leadership (Board of Directors) is difficult to have a general overview of the whole business situation: revenue, profit loss, inventory norms ..., if you want to know, it takes time to synthesize information from the ministries part

In situations that arise, they need to be resolved quickly, due to lack of information, businesses can easily make wrong decisions

Discrete management tools, lack of coherence, data inheritance cause overlapping of resources or workflows between departments / branches, waste of resources, wrong allocation of resources, wrong time

It is difficult to control the human resource fluctuations or not to evaluate the effectiveness of the recruitment, leading to a shortage of staff ...

Because information is not synthesized continuously and immediately, the Board of Directors can make operating decisions, set plans and goals in each period, not closely with the ability to be achieved in practice ...
Because of the above situation, business management software is sought by many business leaders to overcome the situation "everything is available, but what is needed ". This is a solution to systematize the entire process and operations at the enterprise, helping the Board of Directors to grasp the most accurate and timely information using resources to maximize efficiency.
Here are the top most popular business management software:
1. AMIS.VN business management software
AMIS.VN is business management software released by MISA Joint Stock Company, known as a reputable accounting software provider with 25 years of experience, nearly 200,000 corporate customers, individual households. , business and administrative units…
This is also considered as an effective ERP solution, integrating common functions of the business on a single system. Instead of using accounting software, HR-salary software, production management ... AMIS.VN connects all modules of finance, accounting, sales, human resources, job management ... . together to manage more closely, more overview.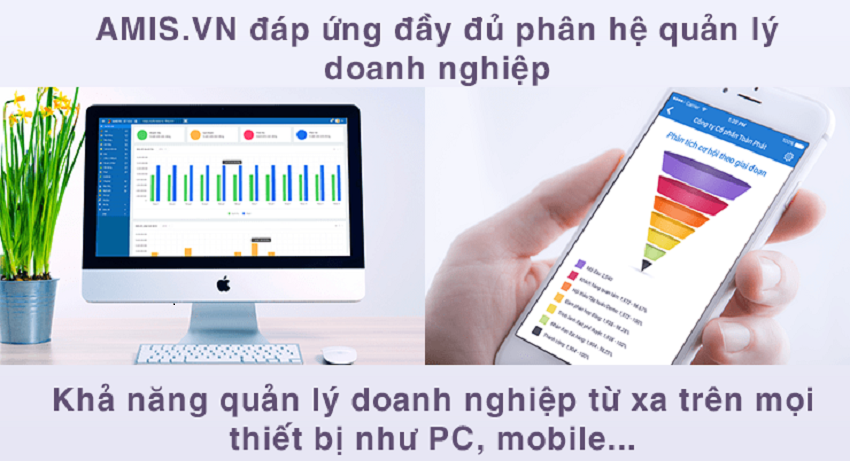 The advantages of AMIS.VN help businesses solve difficult problems in resource planning, optimize costs and use human resources more effectively. Can be followed by:
Reducing errors by making good use of data inheritance

between modules that are directly linked together. In the unified process, the output of this department / job is the input of another department / job, thus saving time for inputting, reducing errors and speeding up employee performance.

Working on the Cloud platform, employees and BLD can work anytime, anywhere

. CEOs can view real-time reports right on the phone, accountants can declare tax online while working at home, ...

Full modules to help businesses manage overall,

including: Finance and Accounting, Human Resources (Recruitment - Salary - Insurance), Sales (CRM), Marketing and internal communications, Process- Process Design, Property, News, Knowledge, Job Management ...

Connect with electronic invoice software, digital signature software, sales management software, and restaurant management software to

help businesses consolidate information from input to output, from retail to Corporations.
AMIS.VN's corporate governance software has an attractive price policy and the ability to meet Vietnamese circulars, decrees and laws more than international brands because it is packaged ERP software by a vendor. soft in water. Enterprises can choose to use 1 module or the entire software, flexibly choose the size package to use in accordance with the number of documents of their business and especially the software is not limited to the number of users.
2. Microsoft Dynamic business management software
Microsoft Dynamics 365 is foreign business management software sold through agents in Vietnam.
Microsoft Dynamics 365 integrates the functions of CRM customer management software into ERP and develops new features with the aim of creating new intelligent applications to help manage the specific business functions of business from Sales, Customer Service, Operations, Finance, Maintenance, Project Management, Marketing and Customer Knowledge ...
Microsoft Dynamics 365 provides app support for iOS, Android, and Windows Phone. And also capable of working without a data connection and data will sync automatically after the connection is re-established as AMIS.VN's corporate administration software.
Like most other business management software, Microsoft Dynamics 365 will charge you based on the number of users per month. Each agent will have a different but not significant discount.
3. Oracle business management software
Oracle JD Edwards EnterpriseOne is a business management software developed on a cloud computing platform, providing ERP applications and tools for financial, human resources, distribution and manufacturing jobs. ERP Oracle meets a variety of businesses from small, medium to large scale.
ERP Oracle features include financial management, project management, asset lifecycle management, order management, CRM, manufacturing, supply chain planning and logistics, reporting and sales. clever.
In addition, Oracle enterprise management software also extends other features such as real estate management, human capital management, environmental health and safety and commodity transactions.
The production and distribution module allows the user to manage various production activities through project-based and project-based production modes. The consumer goods module allows users to manage product quality, supply chain and shipping.
Just like Microsoft Dynamics 365, to buy this software, you will also have to go through agents with different price incentives and have to pay for the Vietnamese license.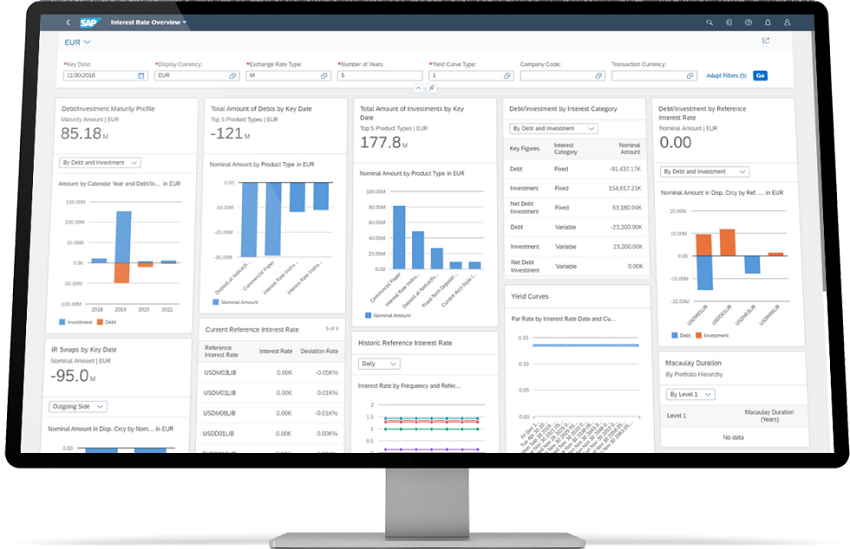 4. SAP Business One enterprise management software
SAP Business One integrates many modules, suitable for the accounting, manufacturing, retail and distribution industries of small and medium scale. Suitable for many areas and sizes, this cloud-based platform integrates financial management, customer care (CRM), inventory, sales, and operations modules in one system.
SAP Business One supports multi-currency transactions and multi-language capabilities for businesses operating globally.
The system provides a remote support platform that can perform automated system health checks, scheduled database maintenance operations, qualified check upgrades, and automatic error correction. problem was discovered.
SAP Business One business administration software is cusotmize software that means getting editing according to the actual needs of customers based on available platforms.
5. Open Bravo business management software
OpenBravo is currently a software used by more than 6,000 individuals and organizations. This business administration software is developed based on open source and should run well in any web browser.
The software develops based on a modern, logical workflow that is suitable for the operating and management activities of specific organizations.
Openbravo currently has a selling price based on different needs of customers and a monthly subscription fee.

Above is the top business management software that is loved both at home and abroad. Depending on the responsiveness of each software, hopefully your business can choose the best overall management solution.
Nguồn: https://amis.misa.vn